Being the knife dork that I am, I tend to collect them like a kid collects Pokemon cards or those little plastic skateboards. Every one has its own individual use, and these days I favor tough budget-friendly knives that fill several roles.
Not everyone needs a high end knife. I think highly of super steels for super people who do super things for a living, like getting stabby with bad guys in unhospitable places where one may not have the luxury or time to touch up the blade to a hair popping edge. I have knives like these, with D2 and S30V steel, sitting in my gun safe. I still carry them every now and again, and they can do the simple stuff too, but they are a pain in the ass to sharpen. For the mundane tasks that I typically ask a knife to do, I chose solid quality knives with good "working steel" (my term) that can maintain a nasty edge for awhile, but doesn't take a lot of time or effort to sharpen, and doesn't cost over $100.
This weekend I had the good fortune to pick up a 1st generation Cold Steel Recon 1, since like a dumb ass I had lost the same knife this past winter at Bass Pro Shops, and they don't make this generation anymore. It was the last one the man had for sale at the local funshow, and I had to have it. My first Recon 1 sold for about $65, and this one I got for $79. That's still a steal.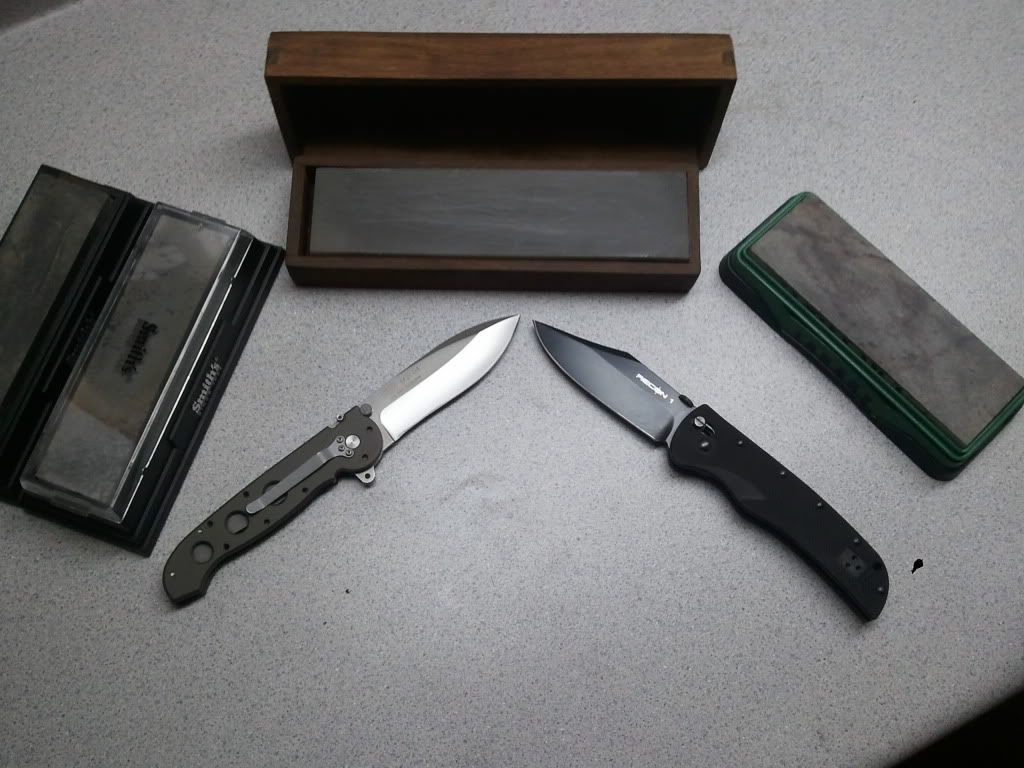 This knife has rode in my pocket for years, and I trust my life to it. Years ago I talked my brother in law into the Recon 1 since I was no stranger to Cold Steel products, and knew that they could take a beating. I was impressed with it enough to buy one for myself after witnessing said brother in law using it to dig with, often stabbing it into the dirt to hook leads to and use as a ground. After several months of unspeakable abuse, he would bring it to me to clean up and put a new edge on, and it always did. He gave that knife to his nephew with reluctance, but I know where he can find one more just like it if I don't get to it first.
The other knife that is a recent purchase is a CRKT M21-04. I have a history with this one as well. The first one I bought my dad fell in love with, so I gave it to him. I got another one brand new, and it was taken from me in the famous BWI Airport incident on my way to Iraq. My third chance at buying this knife yielded the M21-02, which is the smaller version of the knife. I had bought this same one for a close friend years ago, and he lost it. I found out shortly after I got this one in the mail, and it made his day when I gave it to him. Now I have another M21-04, and I will take better care of it.
Both of these knives have 4" blades made of AUS8. Some folks bash this steel because you don't find it in $500 Strider knives, but I find that it's a great compromise between high end stainless and carbon steel. It will rust a little given enough time, but not like 1095. I don't mind the rust that much because I can wipe a bit of motor oil on the blade to keep it in shape. This can pose a problem if you decide to use your cutting tool to hack your childs McNuggets into smaller pieces, since society tends to frown upon children eating oil tained chicken, so I like to keep the teflon coated blade of the Recon 1 in my pocket most of the time.
Both CRKT and Cold Steel make high quality knives that will take an edge and take lots of abuse, but may lack some of the fit and finish that knives like Benchmade, Emerson, and Protech are known for. That fit and finish make up the last 15% of knife's character, and to get it will cost you an additional 2 - 3 times what the two above knives will cost you. I've never been hartbroke to lose a budget knife, either because I broke it doing something I wasn't supposed to, or because I had to toss it in the trash, like the SOG Trident that I forgot to place in my check-on luggage in a foreign country that I won't name here. Had that been my Rukus, I would have cried.
Hopefully this post gives my several readers a look at lesser folders that will last a lifetime doing tough tasks, but not break your wallet.